Citrix has been working hard to implement the most common enterprise features requested by customers. Today we're reviewing the exciting Citrix Workspace Intelligence which is new to Citrix Cloud this year. Learn how an intelligent digital workspace can bring organization to chaos and improve the employee experience.
Workspace intelligence is, without a doubt, the most exciting development in Citrix Cloud at the moment. Citrix acquired the company Sapho back in November last year and showed some of the integration with Citrix Workspace at Synergy 2019.
It's a lot easier to give big decisions your full attention when you're not buried under a barrage of emails and pings. Citrix Workspace releases you from the 3+ hours a day devoted to communicating and catching up, and from having to shift from one login to another every time you need to get something done. Simply consult with your personalized feed to see what truly needs your attention, then finish each task in seconds. You'll be free to focus on important initiatives that truly move the business forward.
Citrix Workspace Intelligent Experience will have out-of-the-box support for micro-apps for over 100 pre-built microapp action templates for the most common apps in the industry such as ServiceNow, Workday, Office 365, SAP, Jira, GSuite, etc. Citrix Workspace intelligence capabilities can be turned on using the new Citrix Workspace Micro app service.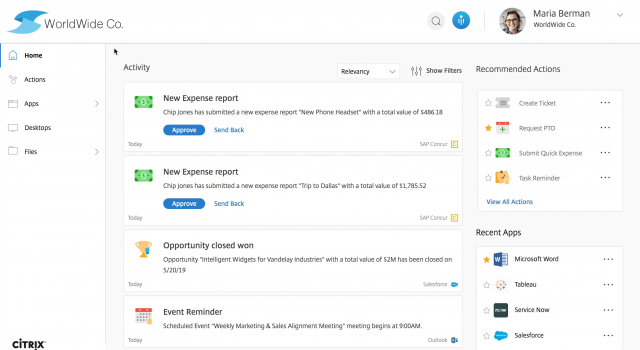 Microsoft and Citrix are partnering again for in-depth integration with Microsoft Teams. This integration will allow users to send micro-apps data directly to Teams and leverage the built-in Virtual Workspace Assistant created by Citrix. It's been announced that the assistant will be able to understand and respond to natural language prompts from users.
Additionally, Citrix announced its Micro-App builder to easily integrate your own micro-applications with Citrix Workspace without the need to know how to code. API will also be available for advanced developments.
Click here to get in touch with Teba to learn more about Citrix Workspace intelligence.