Citrix SD-WAN solves sophisticated routing with ease providing optimal network connectivity between enterprise branch offices or outlets and their Citrix Workspace. Whether it's hosted on-premises or in the cloud, it improves user experience and in turn, reduces costs.
SD-WAN instances across an enterprise intranet communicate with a real-time view of the network, whether they're hosted in on-premises office locations or at hybrid cloud-hosted resource locations. They create a web of virtual paths between all SD-WAN platform interfaces and establish secure tunnels across path options between locations. Then they identify traffic and route it on a per-packet basis across the optimal path with knowledge of the quality each path can offer, including latency, loss, and jitter characteristics. They reassemble flows for delivery at their destination, providing the best possible application user experience.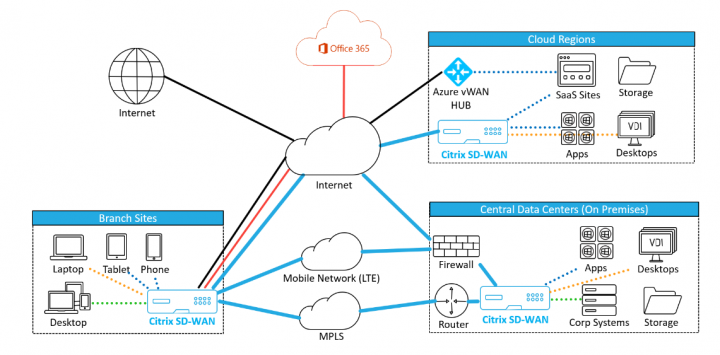 HDX Session and Traffic Optimization
The HDX protocol suite delivers Citrix Virtual Apps and Desktops sessions and provides the ability to tag session traffic by using a unique port or QOS tag. Both options may require extensive firewall changes and routing QOS changes to implement, and they do not use a multi-path approach. Citrix SD-WAN uses the default configuration to uniquely identify multi-stream ICA over a single port and prioritize traffic over multiple paths simultaneously and according to QOS requirements.
Citrix SD-WAN Virtual Instance for Azure Resource Locations
Microsoft Azure is a popular cloud platform, and many Citrix customers use it to host hybrid resource-location systems such as Virtual Desktop Agents (VDA). Both the SD-WAN VPX Standard Edition and WANOP Edition VPX can be deployed in Microsoft Azure and integrated with an Enterprise SD-WAN environment to enable features like link bonding, instantaneous failover, and selective packet duplication to Azure-hosted resources.
Integration with Microsoft Azure global Virtual WAN
A preferred partner for Microsoft Azure Virtual WAN, Citrix SD-WAN can facilitate Azure Virtual WAN gateway service for IPSEC connectivity and automated setup, making scaled deployments simpler to manage. Citrix SD-WAN simplifies branch networking with a reliable, high-performance workspace experience.  Learn More about Teba's SD-WAN Solutions.